Energy labels, you've most likely seen them around your household, but what do they mean? Let's explain their function and how they relate to your heating systems.
What are energy efficiency labels?
The Energy-related Products (or ErP) label is designed to showcase how energy efficient your product is and helps give you the confidence that the product you are buying or having installed is the best choice for your home and uses the appropriate amount of energy.
What does the energy label look like?
Eligible products are required to have an energy label that states a level between A++ and G for boilers and A+ to F for water heaters. Take a look around your house and you'll be sure to find these labels on a range of household items such as washing machines or fridge freezers. The labels have a clear colour scheme going from dark green to red, with A++-rated products being dark green and G/F rated products being dark red. At the top of the list are the most energy efficient and at the bottom are the most energy consuming. The label will also feature the sound levels of the product rated in Decibels (dB). There is also a section for the sound levels of the product labelled in decibels (dB) so that way you know if the system will be a noise concern for your household.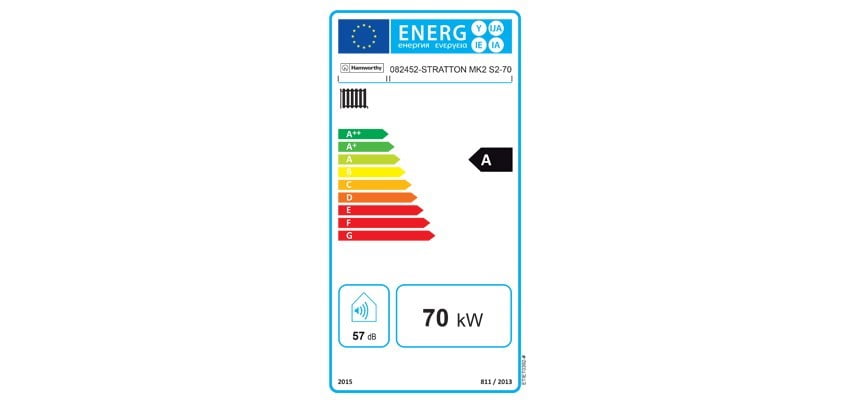 Who is responsible for providing the energy label?
There are two types of ErP labels; a product label and a system label. Manufacturers will be responsible for providing a label for each product they sell which falls under the ErP Directive.
A system label must be provided by the installer of a complete heating system, for example when combining a heating appliance such as a boiler or water heater with a controls system. The system label is calculated using the different efficiency levels of each of the components of the system and is provided to the end user.
SEDBUK Ratings
Before ErP ratings replaced them in 2015, there were SEDBUK boiler energy ratings.
According to Which? :
"Nearly all modern gas condensing boilers available in the UK get an A-rating on this label, so it can be more useful to use the SEDBUK 2009 efficiency rating if you are interested in the minutiae of how one boiler compares to another."
SEDBUK stands for 'Seasonal Efficiency of a Domestic Boiler in the UK' and provides a fair comparison of different models of boilers. The SEDBUK rating shows the average annual efficiency achieved in typical domestic situations, taking into account climate, pattern of usage, control and more and is calculated by important factors such as boiler type, fuel used, ignition type, UK climate, boiler water content and typical domestic usage patterns. For estimating annual fuel running costs SEDBUK is a better guide than laboratory test results alone.
Just like the ErP labels, the boiler's performance is placed in a banding system from "A" to "G." With "A" banded boilers being the most efficient and usually termed 'condensing' boilers.
When looking to get a boiler, there are two types of SEDBUK ratings, referred to as SAP (Standard Assessment Procedure) scores to look out for.
SAP winter efficiency – This is a boiler's energy efficiency that is measured by an independent laboratory and is calculated to an industry standard called SAP 2009. There are only marginal differences between modern condensing boilers on this measure.
SAP hot water efficiency – This is how efficient the boiler is at producing hot water and can vary from boiler to boiler so this figure should be double checked.
If you are in need of boiler servicing, boiler repairs of boiler installation in the Plymouth or South West area, get in touch with us today on ???? 01752 69505